On the XFM Breakfast Show earlier this week, Tim and Jim were talking about when it's Ok to wish someone a "Happy Christmas". They concluded that you should be able to answer 'Yes' to at least two of the following questions:
 Have you opened any doors on your advent calendar?  Are you going to see this person again before Christmas? (Although I suspect the qualifying answer to this question is actually no!)  Are you Santa Claus?
Have a look at their handy cut and keep reference card on Twitter!
On Tuesday I had the opportunity to put this theory to the test. I was invited to dinner with the in-laws because my Aunt, Uncle and Cousin in-law (is that the right term?) were paying their annual Christmas visit. I've not been faced with the early Christmas wishes dilemma before because this event usually takes place in December, but I have to say, I couldn't bring myself to say "Happy Christmas" just yet – I'll save it for the Christmas card!
In the interests of common sense I had already swallowed my reluctance at buying Christmas presents before December and even had to watch the boy wrap them up. I feel like Christmas is being imposed on me much earlier than usual this year and I've not quite decided whether to resist, or just embrace it.
Anyway, before I commit myself to a series of Christmas posts, I thought I'd share a little tip with you to help you save money on your Christmas shopping.
I have been using a cash back site called Quidco for several years now and have in total earned a little over £1500.00. That's literally money for nothing – well, for remembering to visit Quidco before doing any online shopping. I've received cash back on car insurance, hotels, travel money, bike bits, clothes and much much more, and all for doing shopping that I would be doing anyway.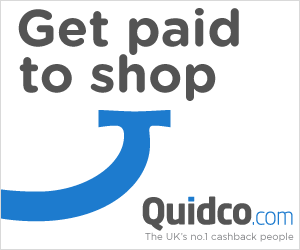 So, if you want to receive the same benefits, and save some money this Christmas, all you have to do is sign up, for free.
And, because I am feeling Christmassy, if you sign up via the links on my blog, once you've earned your first £5.00 cash back you'll get an additional £2.50 on top!
P.S. Tried these for the first time today…

…If Haribo was on Quidco I would make a fortune!